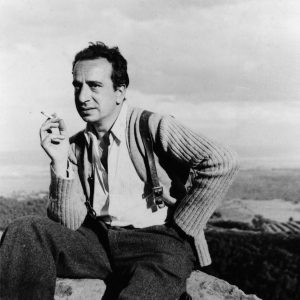 Joan Sales
1912-1983
Joan Sales (1912–1983) was born in Barcelona to a Catalan family. In 1932, he earned a law degree from the University of Barcelona and in 1933 married Maria Núria Folch. Their daughter, Núria, was born the following year. At the outbreak of the Spanish Civil War, Sales, who was a member of several regional anarchist and Communist groups, fought for the Republican government on the Madrid and Aragonese fronts before going into exile in France in 1939. He moved to Dominica in 1940, then Mexico in 1942, finally returning to Catalonia in 1948.
In 1955 he co-founded the publishing house Club Editor, where he would edit and publish some of the most important authors of twentieth-century Catalan literature, among them Màrius Torres and Mercè Rodoreda, as well as his own work, including a book of poems, Viatge d'un moribund (1952); a collection of letters from his wartime and exile experiences, Cartes a Màrius Torres (1976); and a Catalan translation of The Brothers Karamazov. He died in Barcelona.
Biography from NYRB.